Dr. Rodriguez – Martin is a native Floridian. He has also completed more than 250 hours of continuing education in implantology, cosmetic dentistry & orthodontics.
Read more about Henry Rodriguez Martin, DMD
Dentist - Delray Beach,
2100 Lake Ida Road, Suite 2-A
Delray Beach, FL 33445
Find us
Find helpful information in our digital library.
Posts for tag: fillings
By Brilliant Smiles Dental
January 31, 2017
What your dentist in Delray Beach wants you to know
Dental fillings can last for years, especially if you practice excellent oral hygiene habits and don't grind your teeth at night. Dental fillings can fail from dental decay around the filling or if you expose your teeth to repeated trauma like grinding or clenching. Trauma can weaken a filling, causing it to chip or break.
So when do you need a filling replaced? Dr. Henry Rodriguez-Martin at Brilliant Smiles Dental in Delray Beach, FL wants to tell you about the signs you might need your filling replaced.
You may need a filling replaced if:
Your filling is cracked, broken or chipped
Your tooth is decayed around the filling
Your tooth is sensitive, especially to hot, cold or sweets
Your filling has a space between it and your tooth
There are also some ways to protect your fillings from breaking. Consider:
Having a nightguard made if you grind your teeth at night
Wearing a mouthguard if you play contact sports
Avoiding nail biting, chewing on pencils and other trauma
Avoiding chewing ice and very hard foods
If you do need a filling replaced, modern dental fillings can provide both beauty and strength, making a welcome addition to your smile. If you have old, bulky, large metal fillings that have broken down, you can replace them with:
A tooth-colored filling of composite resin; these fillings can be color-matched perfectly to your existing teeth, creating a harmonious look to your smile.
A porcelain crown, if your tooth is badly decayed, or has very little tooth structure remaining; crowns provide armor-like strength because they completely encase the visible parts of your teeth. They can be purely functional or in the case of porcelain crowns, beautifully indistinguishable from your existing teeth.
If you need a filling replaced, don't worry. Modern filling options are a great solution to damaged or decayed teeth. For more information on dental fillings and other services, call Dr. Rodriguez-Martin at Brilliant Smiles Dental in Delray Beach, FL. Call today!
By Brilliant Smiles Dental
August 24, 2016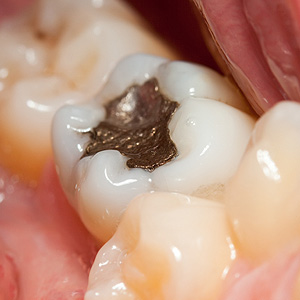 With all the new tooth-colored fillings for cavities, it's easy to overlook metal amalgam. While this mainstay of dental care for over a century might not be as attractive as composite resins or glass and resin ionomers, it still has the advantage of strength and durability.
Amalgam is a stable metal alloy usually made up of silver, tin, copper and mercury. The metals are proportioned and mixed precisely to guard against "free" mercury molecules, which could pose a health hazard. The mixture is pliable at first, but then sets hard once molded into the prepared area of the tooth.
Besides strength, amalgam's other advantages include low cost, high resistance to wear and biocompatibility (not toxic to the body or allergy-producing). At the same time, it can require more tooth structure removal to accommodate a filling and cause higher sensitivity to temperature for a while after installation. Its main disadvantage, however, is appearance — it's now considered unacceptable from an aesthetic point of view to use it in visible areas like the front teeth.
Because of this, materials resembling natural tooth color are coming into vogue, especially as their strength improves. Still, dental amalgam continues to play a useful role, especially in less visible back teeth with higher chewing forces.
One past concern about dental amalgam is the inclusion of mercury in the alloy. As mentioned before, mercury is hazardous in a "free" form when not knit microscopically with other metals; as such it can emit a vapor that could enter the bloodstream and damage the nervous system. But after several studies by various organizations, the American Dental Association has concluded amalgam's precise mixture prevents the mercury from taking this form: although some vapor is given off during chewing it's far too low in concentration to pose any danger.
Dental amalgam continues to be an effective choice for fillings. Whether it's the right choice for you will depend on the type and location of a tooth to be filled, and whether durability is a higher concern than appearance. If we do recommend an amalgam filling, you can be assured it's a safe and lasting choice.
If you would like more information on your choices for dental fillings, please contact us or schedule an appointment for a consultation. You can also learn more about this topic by reading the Dear Doctor magazine article "Silver Fillings — Safe or Unsafe?"
By Brilliant Smiles Dental
February 10, 2016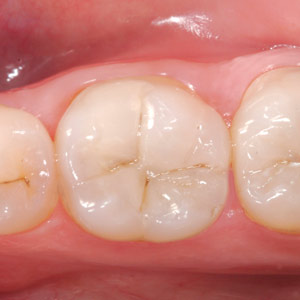 It takes a lot of skill, experience, talent and artistry to create tooth restorations that look so natural that no one can tell them apart from the originals. To do so requires understanding of the normal anatomy of a tooth as well as of the interactions of light and color.
How the anatomy of a tooth determines color
The color that we perceive when looking at a tooth results from the combined appearance of the tooth's center core (dentin layer) and its covering enamel. Going from the outside in, the enamel is made of tightly packed crystals of calcium, which cause it to be one of the hardest substances naturally produced by animals. The crystals are also responsible for a tooth's brilliance and translucence. The dentin is more like bone, a porous living tissue composed of microscopic tubes, interspersed with more calcium crystals. In the very center of the tooth is a central chamber containing the pulp and nerves.
Each of these layers has its own physical and optical properties. Since the enamel is translucent and the dentin is more opaque, most of the tooth's color comes from the dentin and is transmitted through the enamel layer. Factors that affect this transmission include the thickness and age of the enamel as well as external tooth whitening.
If the enamel is more translucent, more of the color of the dentin shows through. If it is more opaque, the enamel absorbs and reflects light so that less color is visible and the enamel looks brighter.
The language of color composition and reflected light
Color means the whole spectrum in the rainbow. The spectrum is made up of the three primary colors — red, blue, and green. When all are combined, they create white light.
Hue refers to the brightest forms of the colors. The color we perceive depends on the dominant wavelength of light that is reflected by an object.
Value refers to a color's lightness or darkness. A brighter color has a higher value.
Chroma is the amount of identifiable hue in a color. An achromatic color (without hue) appears gray.
Saturation is a measure of a color's intensity.
This terminology of color is used not only by dentists and dental technicians, but also by a wide range of artists. It implies expertise and understanding of how colors work, how they vary and change and affect one another.
Contact us today to schedule an appointment or to discuss your questions about bonding to repair chipped teeth. You can also learn more by reading the Dear Doctor article, "Artistic Repair of Front Teeth with Composite Resin."