Dr. Rodriguez – Martin is a native Floridian. He has also completed more than 250 hours of continuing education in implantology, cosmetic dentistry & orthodontics.
Read more about Henry Rodriguez Martin, DMD
Dentist - Delray Beach,
2100 Lake Ida Road, Suite 2A
Delray Beach, FL 33445
Find us
Find helpful information in our digital library.
Posts for: October, 2016
By Brilliant Smiles Dental
October 23, 2016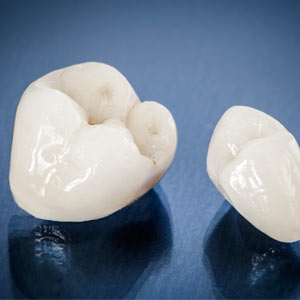 If you're in need of a crown to cover a damaged tooth, you have a lot of options. But before you choose, you need to know what you want. Would you be happy with an affordable, well-fitting crown that holds up well and allows you to chew comfortably? Or are you interested in a more expensive one that also provides the most attractive result?
Crowns have been a mainstay in dentistry for generations. The first were made of metals like gold or silver — durable and effective but not very attractive.
In time, a ceramic material known as dental porcelain began to make its appearance in crowns. Dental porcelain could be fashioned to resemble the color and texture of natural teeth, but it had a significant drawback: it could be brittle and subject to shattering under chewing pressure.
This problem was somewhat addressed with the innovation of a crown with a metal substructure fused with an outer layer of porcelain. These porcelain-fused-to-metal (PFM) crowns combined the best advantages of both materials: strength and life-likeness. Up until around the mid-2000s, PFM made up over 80% of crowns.
But later porcelains continued to improve in strength, beginning in 1993 with the introduction of a Lucite-reinforced material. Newer formulations like lithium disilicate or zirconium oxide (now considered the strongest porcelain) have made all-porcelain crowns a viable option. Today, an estimated 60% of new crowns are all-porcelain.
From an appearance standpoint, all-porcelain crowns achieve the best results. The most realistic crown can be costly — not because of the material but the level of artistry required. A skilled dental technician will spend several hours, including brushing on as many as fifteen coats of liquid porcelain to the crown, to achieve the most life-like outcome. Your insurance plan, if you have one, will most likely not pay as high a percentage for that type of crown.
In the end, it's your decision as to what type of crown you wish to have. We'll help you weigh your options and decide what's best for you and your budget.
If you would like more information on crown options, please contact us or schedule an appointment for a consultation.
By Brilliant Smiles Dental
October 08, 2016
Are bleeding gums something you should be concerned about? Dear Doctor magazine recently posed that question to Dr. Travis Stork, an emergency room physician and host of the syndicated TV show The Doctors. He answered with two questions of his own: "If you started bleeding from your eyeball, would you seek medical attention?" Needless to say, most everyone would. "So," he asked, "why is it that when we bleed all the time when we floss that we think it's no big deal?" As it turns out, that's an excellent question — and one that's often misunderstood.
First of all, let's clarify what we mean by "bleeding all the time." As many as 90 percent of people occasionally experience bleeding gums when they clean their teeth — particularly if they don't do it often, or are just starting a flossing routine. But if your gums bleed regularly when you brush or floss, it almost certainly means there's a problem. Many think bleeding gums is a sign they are brushing too hard; this is possible, but unlikely. It's much more probable that irritated and bleeding gums are a sign of periodontal (gum) disease.
How common is this malady? According to the U.S. Centers for Disease Control, nearly half of all  Americans over age 30 have mild, moderate or severe gum disease — and that number increases to 70.1 percent for those over 65! Periodontal disease can occur when a bacteria-rich biofilm in the mouth (also called plaque) is allowed to build up on tooth and gum surfaces. Plaque causes the gums to become inflamed, as the immune system responds to the bacteria. Eventually, this can cause gum tissue to pull away from the teeth, forming bacteria-filled "pockets" under the gum surface. If left untreated, it can lead to more serious infection, and even tooth loss.
What should you do if your gums bleed regularly when brushing or flossing? The first step is to come in for a thorough examination. In combination with a regular oral exam (and possibly x-rays or other diagnostic tests), a simple (and painless) instrument called a periodontal probe can be used to determine how far any periodontal disease may have progressed. Armed with this information, we can determine the most effective way to fight the battle against gum disease.
Above all, don't wait too long to come in for an exam! As Dr. Stork notes, bleeding gums are "a sign that things aren't quite right." Â If you would like more information about bleeding gums, please contact us or schedule an appointment. You can read more in the Dear Doctor magazine article "Bleeding Gums." You can read the entire interview with Dr. Travis Stork in Dear Doctor magazine.